Study Apply treatments to trees at Interlink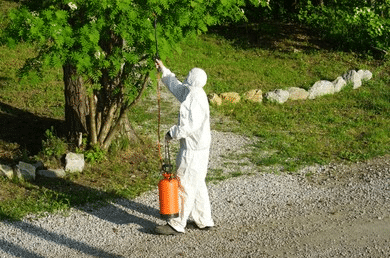 Apply treatments to trees (AHCARB211) gives you the knowledge to remedy tree problems by identifying appropriate treatments. Treatments range from soil management, the use of fertilisers or other chemicals or alleviation of tree stress.
What will I learn during the Apply treatments to trees unit?
Interlink's course teaches you to apply treatments to tree by either modifying the trees environment or applying chemical treatments.
During the course of your studies you will learn skills relating to:
Undertaking weed control measures to remove competition for nutrients
Add soil additives to help tree tree health concerns
Identify chemical treatments as prescribed from supervisor instructions.
What sort of assessments can I expect to complete?
Interlink's course contains a combination of written and practical assessments.
Written assessments test your knowledge of learning elements (knowledge evidence) including:
Risk assessment for tree hazards, including identifying methods for assessing risk, control strategies and appropriate personal protective equipment
Soil conditions, nutrient disorders and weed competition and the effect they have on tree disorders
Control strategies for tree disorders, including fertiliser application, moisture retention and chemical treatments
Identification of appropriate equipment and machinery for tree treatments
Use of appropriate chemicals and an understanding of material safety data sheets.
Practical assessments are used to assess your ability to demonstrate key performance criteria (performance evidence) such as:
Perform treatments on trees in situations relating to weed control, mulch management, soil management and soil de-compaction
Selection and pre-operational checks on equipment relating to the treatment
Identification of personal protective equipment to complete treatment.
Preparation of chemical treatments according to manufacturer specifications
Disposal of unused materials and waste according to environmental procedures.
Assessments are conducted within workplace and classroom settings and are held over the duration of the unit.
What do I get for completing Apply treatments to trees?
Completing Interlink's course meets the national requirements for the accredited Unit of Competency (AHCARB211).
Apply treatments to trees (AHCARB211) is a competency within the Certificate II in Arboriculture.
You will receive a nationally recognised Statement of Attainment when you successfully complete this course.
Course Details
Course OptionsCourse DurationEntry RequirementsCourse FeesDelivery ModesCareer Options
Course Options
This course is available through all Interlink training centres.
Call Interlink on 1300 731 669 to discuss your training options.
Course Duration
Apply treatments to trees (AHCARB211) runs over 1 day
Entry Requirements
There are no prerequisites for AHCARB211.
To successfully complete this course participants will need intermediate literacy and numeracy skills.
Call Interlink on 1300 731 669 to discuss your training options.
Course Fees
$450.00 as a stand-alone unit.
Please note: Interlink Training is not VET FEE-HELP approved. Government training subsidies are not available for this course.
Delivery Modes
Face-to-face sessions within small groups.
Disclaimer
Attendance at this course does not automatically guarantee attainment of competency, nor does satisfactory completion of assessment and attainment of competency guarantee employment.