Study Fell small trees at Interlink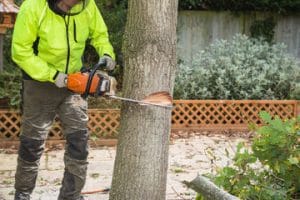 Fell small trees (AHCPCM203) gives you the skills to cut down small trees.
Study tree-assessment and practical felling procedures to help you determine the best strategy for simple felling jobs. Select, use and maintain chainsaws, tools and equipment and make sure you follow all work, health and safety protocols.
Learn to determine and monitor the fall direction of a tree, the safe fall zone, exclusion zones and escape routes during the removal of trees in low hazard scenarios.
What will I learn during the Fell small trees unit?
Interlink's course gives you the knowledge, skills and confidence to plan and carrying out small tree-felling operations.
During the course of your studies you will learn coordination skills relating to:
Visually assess trees for any defects and confirm they are safe to fell
Select standard felling techniques based on ground conditions and the state of the canopy
Consider the surrounding area and prepare the felling site and a clear escape route
Determine the natural direction of the fall and confirm it with your supervisor
Select the right tools and equipment for the job, ensuring they are operating effectively and safely
Clear the fell site of the tree and any tree debris.
What sort of assessments can I expect to complete?
Interlink's course contains a combination of written and practical assessments.
Written assessments test your knowledge of learning elements (knowledge evidence) including:
Methods to identify tree defects and their impact on felling
Hazards and risks that can impact on felling trees including overhead and underground services, excavations and traffic
The types of tools and equipment used for felling trees including their basic operation and maintenance requirements
Safe working practices for chainsaw operation
Workplace health and safety (WHS) requirements within the amenity tree industry including emergency first aid
Practical assessments are used to assess your ability to demonstrate key performance criteria (performance evidence) such as:
Examining site conditions, detecting hazards and applying control measures
Interpreting work procedures and following safe working practices
Conducting a tree assessment to identify characteristics that would impact felling, such as structural defects, common diseases, pests, and nutrition deficiencies
Felling small trees using appropriate cuts
Operating a chainsaw to cut down trees
Working and communicating with a team both orally and using hand signals
Monitoring and maintaining tree felling tools and equipment
Determine safe fall zones and exclusion zones.
Assessments are conducted within workplace and classroom settings and are held over the duration of the unit.
What do I get for completing Fell small trees?
Completing Interlink's course meets the national requirements for the accredited Unit of Competency (AHCPCM203).
Fell small trees (AHCPCM203) is a competency within Certificate II in Horticulture and Certificate II in ESI – Powerline Vegetation Control.
You will receive a nationally recognised Statement of Attainment when you successfully complete this course.
Course Details
Course OptionsCourse DurationEntry RequirementsCourse FeesDelivery ModesCareer Options
Course Options
This course is available through all Interlink training centres.
Call Interlink on 1300 731 669 to discuss your training options.
Course Duration
Fell small trees (AHCPCM203) runs over 1 day
Entry Requirements
There are no prerequisites for AHCPCM203.
To successfully complete this course participants will need intermediate literacy and numeracy skills.
Call Interlink on 1300 731 669 to discuss your training options.
Course Fees
$450.00 as a stand-alone unit.
Please note: Interlink Training is not VET FEE-HELP approved. Government training subsidies are not available for this course.
Delivery Modes
Face-to-face sessions within small groups.
Disclaimer
Attendance at this course does not automatically guarantee attainment of competency, nor does satisfactory completion of assessment and attainment of competency guarantee employment.