Study Provide First Aid at Interlink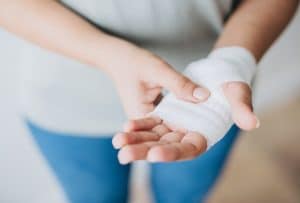 No one can predict when an accident or other emergency will happen. That's why the response time in a first aid incident is critical. If you have the skills and knowledge to react quickly, calmly and effectively – you can make all the difference.
Interlink's Provide First Aid course gives you the skills to apply effective treatment procedures in emergency situations. Learn to communicate the details of the incident and to evaluate your own performance.
Holding a current first aid certificate is a mandatory requirement for many jobs. Interlink's Provide First Aid training is an accredited course and meets compliance requirements for Australian workplaces.
What will I learn during the Provide First Aid unit?
Interlink's course gives you the knowledge, skills and confidence to deal with first aid emergencies within your workplace. Some of the areas covered include:
following the DRSABCD first aid method
performing single rescuer cardiopulmonary resuscitation (CPR) on adults and infants
choking and airway obstruction
managing airways and breathing in unconscious patients
using an Automated External Defibrillator (AED).
You will learn the treatment protocols and applications for:
allergic reactions
anaphylaxis
bleeding control
burns
diabetic incidents
envenomation, using pressure immobilisation
fractures, sprains and strains
heart attacks and strokes
respiratory distress, including asthma
and many more workplace-relevant scenarios.
What sort of assessments can I expect to complete?
Interlink's course contains a combination of written and practical assessments.
Written assessments test your knowledge of learning elements (knowledge evidence) including:
The principles and procedures for first aid management
Basic anatomy and physiology
State/Territory regulations, first aid codes of practice and workplace procedures
ARC Guidelines relevant to CPR and first aid
Infection control principles including standard precautions.
Practical assessments are used to assess your ability to demonstrate key performance criteria (performance evidence) and you will be required to respond to at least two simulations within industry specific scenarios. All the necessary equipment and resources are provided to give you an experience as close to real-life as possible within our learning environment.
Assessments are conducted within workplace and classroom settings and are held over the duration of the unit.
What do I get for completing Provide First Aid?
Completing Interlink's course meets the national requirements for the accredited Unit of Competency (HLTAID011).
You will receive a nationally recognised Statement of Attainment when you successfully complete this course.
Course Details
Course OptionsCourse DurationEntry RequirementsCourse FeesDelivery ModesCareer Options
Course Options
This course is available through all Interlink training centres.
Call Interlink on 1300 731 669 to discuss your training options.
Course Duration
Provide First Aid (HLTAID011) runs over 1 day
Entry Requirements
There are no prerequisites for HLTAID011.
To successfully complete this course participants will need intermediate literacy and numeracy skills.
Call Interlink on 1300 731 669 to discuss your training options.
Course Fees
$450.00 as a stand-alone unit.
Please note: Interlink Training is not VET FEE-HELP approved. Government training subsidies are not available for this course.
Delivery Modes
Face-to-face sessions within small groups.
Career Options
First aid training is a mandatory requirement for many jobs. Increase your job prospects and add to the safety of your workplace by studying with Interlink. Interlink Training also provides training in Provide cardiopulmonary resuscitation (HLTAID009).
Disclaimer
Attendance at this course does not automatically guarantee attainment of competency, nor does satisfactory completion of assessment and attainment of competency guarantee employment.